The culmination of the Lubuskie 2023 Economic Congress, which took place on October 5, 2023, was a Gala at the Lubuski Theater during which LfC received an award for taking 1st place in the small company category. The award from the hands of Mrs. Marshal, Elżbieta A. Polak, and Ms. Edyta Planka, Director of Regional Development of the Bank of National Economy, was accepted by the President of LfC, Mr. Lechoslaw F. Ciupik.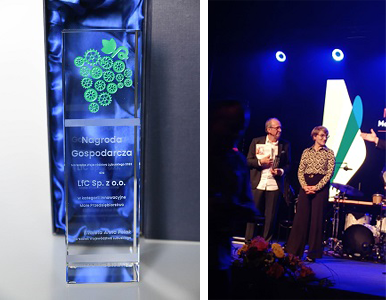 LfC Ltd. received the award for: launching the ISaF spinal implant made of titanium powder using 3D printing technology, along with the TrabQCell surgical procedure – which uses the patient's autogenous bone for bone fusion – into global markets, which helped cure 500 patients worldwide between 2020 and 2022.
Link to source – Portal of Lubuskie Region
In the rush of things, we don't even notice that we are so innovative in developing procedures for spinal treatment.
We are pleased to have our achievements recognized internationally by the host of the Lubuskie Region – Mrs. Marshal Elżbieta A. Polak and the co-organizers of the competition.
We appreciate and are proud of the award.