Information regarding the change of the notified body
LfC Sp. z o.o. informs that from 02/09/2018, the notified body certifying the company's products is the Polish Centre for Testing and Certification S.A., ul. Kłobucka 23A, 02-699 Warszawa, Identification Number of the Notified Body – 1434.
In connection with the above, LfC changed the labels for the products by entering the CE1434 mark. On the inner packaging and on the product, however, there may be different notifications of the notified body, i.e. CE 0434 DNV GL Business Assurance, CE 2460 DNV GL Nemko Presafe AS (these are the designations of the previous LfC notified bodies). PCBC S.A. on the above circumstance issued a letter, informing that they have the full knowledge about the existing situation and taking over responsibility for the products manufactured by LfC so far.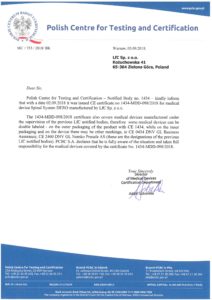 Certification
 LfC Sp. z o.o. has a certified Quality Management System, compliant with the requirements of PN-EN ISO 13485: 2012, EN ISO 13485: 2012 – certificate number M-58/1/2018.
Products manufactured by the company meet the requirements of Directive 93/42 / EEC (as amended) regarding medical devices and have the CE safety mark – certificate number 1434-MDD-098/2018.
Obtaining certificates confirms the high quality offered by LfC Sp. z o.o. products and services.
The certification process was carried out by the notified body of the Polish Center for Research and Certification of PCBC S.A. The scope of certification included: research and development, designing, elaborating of surgical procedures (for spondyloimplantology) with implant, manufacturing, sales and maintenance of surgical implants and associated specialized instruments and also training of operating team, all withhin of Spinal System DERO.
Certificates
The company adopted a quality policy expressing itself through the motto:
"If we do ….. we do it better"
and
"Our satisfaction is greater,
 the more content others become
from realization of our ambition"
For our company, this means:
I. Fulfilling the expectations of our customers by offering them products of the highest standard, made of the best available material, according to the latest technologies,
II. Constant development of our product – spinal system DERO – by extensive research and development, so as to satisfy the ever wider needs and expectations of our customers,
III. Maintaining constant contact and cooperation with leading research, technical and medical centers in the country and abroad facilitating the exchange of experiences and the development of the staff,
IV. Constant improvement of manufacturing technology of implants allowing to obtain best properties of our devices,
V. "Building" new relations with customers referred to as continuous fulfilling and anticipating of future needs and customer expectations through: deeper learning about their needs and inspiring creative thinking (training, teaching, research and development), providing means to fulfill professional, academic ambitions personal satisfaction,
VI. Strengthening the position of LfC on the market in terms of economy, competition, particularly with regard to manufacturer's safety including legal protection of customer/surgeon and continuous expansion to other, foreign markets due to innovative, safe, requirement fulfilling devices,
VII. LfC on the path of continuous development has consolidated its position in the Polish, European and even picked up world markets. During this period the motto driving company's action was the assumption to "measure up to competition" and this manifested itself for 20 years through the motto "If we do, …we do it better". Self-assessment of the company and gained experience led to new insights on the future development and forced the thought that the company's products should be not only competitive with other products on the market, but also create a completely new application areas that include new (or forecasted) diseases and other deficits. Reference point was a healthy man, the way mother nature created him. In order to fulfill this, new development and action/proceedings strategy is being built which is included in announced by LfC president new company philosophy expressed by the motto:
"MEASURING UP TO NATURE"