On January 13, 2020, LfC received the GMP certificate issued by the Brazilian Health Regulatory Agency ANVISA (Agência Nacional de Vigilância Sanitária). This document officially authorizes the introduction of the LfC's medical devices to the Brazilian market.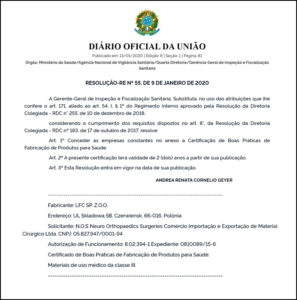 Our products were classified in Brazil as products of class III. Relevant requirements had to be met, which was confirmed by a GMP certificate issued by ANVISA. This certification is based on inspections carried by ANVISA auditors at trial sites.
The introduction of medical devices to the Brazilian market is a complex, multi-stage process (consisting of pre-audit and proper audit), and being subject to particular supervision.
The certification process set by the ANVISA Agency inheres a detailed inspection of the production facility followed by a thorough review of technical documentation.
During the inspection of the manufacturing site, a checkup of the production line of each product covered by the certification is conducted. Furthermore, quality control at the stage of material and components delivery as well as of the finished product is also performed.
The review of technical documentation includes risk management, user manual and labels, product design, biocompatibility, and research reports confirming product safety, and compliance with applicable standards.
Regulatory requirements for medical device manufacturers are broadly in line with the main ISO 13485 guidelines, but there are additional requirements in Brazilian Good Manufacturing Practices (RDC ANVISA 16/2013 COLLEGIATE BOARD RESOLUTION – RDC No. 16 OF MARCH 28, 2013, ISSN) 1677-7042 Federal Official Gazette – Section 1 No. 61, Monday, April 1, 2013) and Quality System Regulation (21 CFR 820). These describe the supervision of design, purchase, manufacture, packaging, labeling, storage, distribution, installation, and servicing of medical devices.
The Brazilian medical services market is noticeably developing, and thus, the number of financial investments in new medical equipment is increasing. As a result, Brazil may become an attractive market for medical devices in the future.