In Krakow, a double-arch scoliosis surgery with abolished kyphosis in the thoracic section was performed on a 17-year-old patient with the use of the LfC STRONG Scoliosis implants system. The surgery was performed by an experienced spine treatment surgeon, Dr. Paweł Radło with the technical assistance of LfC specialists in the DERO-STRONG system.
The key moment of the operation, consisting of the rotation of the shafts affected by scoliosis, was carried out with the use of a set of special sleeves and transverse clasps that fasten the straightened part of the spine and enable smooth derotation. After locking the rod in the heads of the screws, the curvature was corrected in the frontal plane by distraction and compression of the selected shafts. The procedure was finalized with a positive response test of the patient's nervous system. The stabilization area was buried/covered with autogenous bone.
The treatment went seamlessly and the desired therapeutic effect was achieved. The instruments met the implantation, derotation, and stabilization expectations, including the use of polyaxial & multiaxial screws in the middle part of the stabilization in the treatment of scoliosis.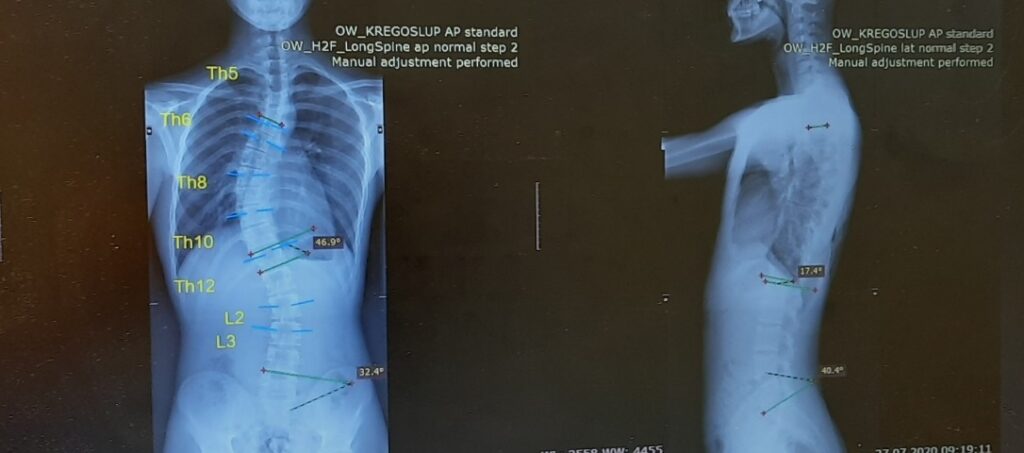 Planning of thoracolumbar scoliosis surgery.
Intraoperative steps of using the LfC STRONG Scoliosis system.
The final stage of the operation, the spine after derotation, and curvature correction.